A week or two ago I started working at a part-time job. I'm still working on Undertown of course, but those payments are just too few and far between! So 2 days a week shouldn't hurt to bad.
It did feel extremely weird going into an office for the day and then drawing backgrounds. Its something that I do at home all the time, but in an office environment there's a little voice in the back of my mind telling me that something is wrong. That I should be sorting files or calculating profits, but I'm drawing. You're not allowed to draw at work right? haha, but then drawing for work just never feels like work, even if it is deadly hard work. It's still, drawing.
Also, I started to listen to a bunch of William Gibson books on tape while I work - I've read almost all his books, but I want to read them again and I can read them this time with my ears.
I think perhaps because of this, I suddenly got a need for electronics made from natural materials. I think in his book Virtual Light, someone gets a laptop made out of precious stones made by Native Americans. It sounds crazy, but I think there's going to be a slow movement toward getting electronics that aren't encased in cold looking plastic.
I know I can't afford the good stuff, but I thought to look at the price of wooden keyboards. I found one surprisingly on Ebay for under 20. So the other day this thing arrived and now sits atop my cluttered desk!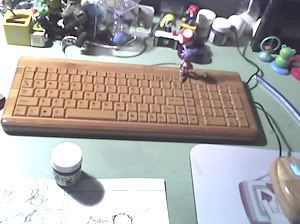 For some reason high tech stuff that is made out or surrounded by materials from an older world just makes the technology more magical somehow. And I sound like a spacecase for saying this, but it also makes the technology seem more real. Perhaps I need that anchor to something now that I'm getting older.